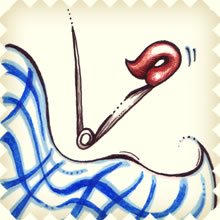 Children's Consignment Sale Shopping Tips:
BE PREPARED!
1. Bring a list of what you are looking for, in what size, and what you don't need (for example: no more blue t-shirts) – it's easy to become overwhelmed by the selection and to end up purchasing way too much, or to gravitate towards items similar to what you already have (maybe you're a pushover for pink dresses….there will be lots at the sales!)
2. Make sure you know your kids' current tastes; for instance, one of my girls doesn't want to show her tummy (in bathing suits) or armpits (in shirts or dresses), nor does she want anything that is not soft woven cotton, or any item with an applique or embroidery on the front that might create extra strings or bumps on the inside of the garmet. Sound familiar? There may be lots of cute clothes, but if your little sweetheart won't wear them once you're home, you're out of luck.
3. Measure your child's inseam and write it down where it won't be lost. Add another inch (for growth spurts!) and also document that number. Pack your tape measure for the sale. Many clothing items shrink after washing (especially in hotter dryer settings), some brands and fabrics more than others. I have a leggy daughter and often find that length varies a lot between brands. A quick check with the tape measure will ensure that clothing you are considering for your child is not too short.
3. Trace your children's feet on cardboard before the sale and bring the cardboard cut-out to hold up against shoes you are considering. Remember to measure both feet; most of us have one foot that is slightly larger than the other. Use the larger cut-out to size potential shoes.
4. Have an amount in mind that you plan to spend. Take a calculator to the sale and take a moment or two to tabulate how much you are about to spend before you get up to the registers. Remember (if you are also a consignor) that you are spending your money before you make it; many's the time I've been elated to find out what I've made at a sale, only to have that sum considerably reduced due to what I've already spent.
5. Make sure you will be shopping with a rolling cart – either a stroller where you can pile a bunch of stuff on, a rolling laundry hamper, or even a luggage cart and your laundry baskets from home secured with elastic tie-down straps. This is essential! Sales are busy places, and you need to be able to keep your items with you, move and maneuver quickly from section to section, and keep your arms free for sorting through all the items on hand.
6. Wear comfortable clothes that allow you to easily bend and stretch as you sort through items on high and low racks, as well as bins. Layers are also helpful; it may be cold outside the sale as you wait to get in, but you'll warm up when you start shopping.
7. Pack a drink and snacks for when you shop. I always bring individually wrapped organic string cheese and almonds, as well as a bottle of water. You may be there for several hours at the bigger sales (especially if you are shopping for multiple sizes), and may miss lunch – or dinner. It can also be helpful to pack some non-allergenic snacks and drinks for kids who might be around you in line or while shopping whose parents weren't prepared for such a long time at the sale. As we all know, hungry kids are unhappy, whiny kids….
8. This is one of the most important: if you can, Leave your kids at home!!!! It can be a big time/energy commitment to shop a consignment sale, and it's hard for little ones to go the distance as far as being patient while you look through all the merchandise, resisting the urge to not run off to play amongst all the tempting toys, let alone waiting in line for what can be long periods of time. Poor miserable little ones. Don't underestimate how much you'll a) have to ignore your child as you go through clothes, b) if they are mobile, how much time and energy you'll spend chasing them around the store and steering them clear of all the toys (especially ride-on ones) and c) how long the entire process is going to take, from getting in the door, to looking through items to checking out. At a big sale (over 500 consignors), shopping for 2 kids, it typically takes me 3 hours, and that's at the private/early sales, not the public sales where the crowds are bigger and the lines longer.
AT THE SALE:
1. Make friends with other shoppers in your section and ask them what they're looking for as far as size and style. Chances are, they'll return the favor. This way, you can tag-team if you are inclined, and grab things as you find them for each other, in different areas of the section. Better yet, shop with a friend who has a child who wears the same size as yours.
2. Make sure you take time to sort what you've picked up, and edit your choices before you head to check-out. True Story: One time I actually came home with two pairs of identical pants – I had picked them both up, intending to see which one was "nicer" and then forgot about that little fact and purchased them both! You'll also no doubt come across shoppers who had earlier access to the sale doing their edits. If you recognize them from a section in which you were shopping, ask if you can have first dibs on anything they decide against. Keep in their proximity, so that they can easily hand items off to you before heading to check-out. You may score some great items that you otherwise would have missed.
3. When doing your final sort before purchase, double-check items that you have selected for stains, rips, tears, working zippers, stretched out elastic, missing buttons (a biggie!) that may have been overlooked, and ensure that the size on the tag is the same as the size on the interior tag of the item. If an item is being sold as a set, check both sets of tags. The top may be a different size than the bottom, which may be fine with you, but best to know in advance of your purchase. Remember to measure the length of shorts, pants, dresses and skirts!
4. With regards to shoes, make sure that you check the actual shoes, especially with regards to wide sizes. I've come home from several sales with shoes that are my daughters' size according to the tag, but that are wide (my girls' feet are mediums) making the shoes unwearable. The fact that they were wide shoes was not disclosed on the tag. Also check the sole wear on shoes; the tops may look great but shoes can end up being quite worn on the bottoms. Different brands can run large or small; a guide for your child's actual size is quite helpful. Use the cardboard cut-out of your child's larger foot that you've brought from home to estimate shoe size.
5. Be friendly to folks in line with you; you may spend considerable time together! This is especially helpful in case you need to run to the bathroom or if you want to wander over to look at a toy section you are passing in line. Friendly folks in line can keep your stuff moving forward if you knick off for 5 minutes. Return the favor, as well!
Have a tip of your own to share? Drop us an e-mail and we'll add it to our list and credit you with the idea!