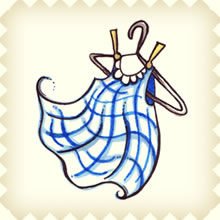 New to Consigning? Here's How it Works:
Children's Consignment Sales charge no up-front fees; all fees are applied at the end of the sale.
The Consignment Sales we work with charge a $15 fee to consign your clothes, as well as 30% of items' selling price: see Duck Duck Goose , Jack & Jules and The Picky Chick to learn about their sale-specific charges).
Final Proceeds are defined as the monies made from a consignment sale after 30% of your total earnings are subtracted by the consignment sale from the total sales of your items. Final Proceeds do not include the consignment sale registration fee of $15.
Items brought to the sales are sold at their tagged price for a specific number of days. The last day of the sale is a half price day, when remaining items (unless marked otherwise) are sold at half price.
Some sales feature a Security Tag option for any items priced over $20 (tags typically cost $1 per item). These security tag fees are deducted from your Final Proceeds when checks are issued by the consignment sale to Little Red Hen Consignment Tagging Service.
Volunteering at the consignment sale of your choice is OPTIONAL, not mandatory. If you choose to volunteer, perks can include a reduced sale registration fee and earlier shopping time(s) during the Private Pe-Sale.
IT'S AS EASY AS 1, 2, 3!
Have a look at the list of what items Little Red Hen accepts from clients to see if we're a good match for the items you wish to sell.  Clients are required to have 150 items that are in sale-acceptable condition and seasonally appropriate to participate with Little Red Hen.
Pick a sale. Either Duck Duck Goose , Jack & Jules or The Picky Chick . Please note that each of these sales operate separately and independently of each other, and are in no way connected. Each sale is unique in its consignor structure, size, location, length of sale, and number of years in operation.
Contact us to register to participate.
SHAKE A LEG!
There are a limited number of Little Red Hen Consignment Tagging Service appointments, so contact us now to schedule your Drop-off and secure your spot! Clients are accepted on a first come, first served basis.
WANT TO BE AN EARLY BIRD?
Take advantage of Little Red Hen Consignment Tagging Service's FREE Early Bird Service:
Reserve your spot early for this and/or next season by dropping off your children's outgrown, out-of-season clothing, shoes and gear whenever you wish to Little Red Hen Consignment Tagging Service at a central Knoxville location.
We'll prepare your items for the next upcoming sale of your choice and store them (Free!) in our secure storage area on hanging racks and fresh cardboard boxes until it's time for the next sale.
Find some extra items later on? No problem! Feel free to add to your stored stash until 3 weeks prior to the sale date.
Only two Drop-offs per Consignor, please.
WHAT NEXT?
FIRST:
Gather clothing, shoes, gear, equipment, etc. that you wish to sell. (Items that will be accepted).
We're looking for client items that are in Excellent Used Condition. When sorting through your stash, ask yourself honestly, "Would I buy this, in the condition that it's in?" If the answer is a resounding, "Yes!" then send it our way.
Items must be season appropriate (spring and summer clothes for spring sales, fall and winter clothes for fall sales) and all clothing should be freshly laundered and neatly folded.
Check carefully for stains – especially on cuffs, necklines and fronts of items, snags, pilling, cracked appliques on t-shirts, for tiny holes, missing buttons and non-functional zippers. Pants should not be worn at the knees or have frayed cuffs.
Clothing items must be fully snapped, buttoned and zipped up, and right-side out, please.
Shoes must be extremely clean – especially their soles, with minimal wear.
Baby gear must be clean, wiped down and ready to be tagged. Items must have all parts to be considered for sale.
All items requiring batteries must arrive with fresh batteries installed and be in excellent working condition.
Remember: There is a 150 item minimum of season-appropriate, sale-worthy items per season!
THEN:
Pop your items into large garbage bags (either 13 gallon- kitchen sized or 33 gallon – yard sized), clearly write your name on a piece of masking tape and affix it to the garbage bag. Note: Shoes should be grouped and placed in their own bag, either separately, or within a larger bag also containing clothing.
Large items do not have to be bagged (unless they contain small pieces), merely labeled with your name on masking tape (which will be replaced with your specific Consignor tag later).
FINALLY:
We will coordinate a time for you to Drop-off your items to us at a Knoxville location convenient to you, or if that's too daunting, we'll come to you! (See Optional Services in our Fee Structure)
The Consignor Agreement and Service Choices must be signed at or prior to Drop-off.
Items must be received no later than 3 weeks prior to the start date of your chosen consignment sale.
WHAT ABOUT OVERSIZED ITEMS?
All oversized items that won't fit into a mid-size SUV, such as furniture and outdoor toys like slides, climbers, etc. must be delivered by you to the sale site. We'll meet you there during the Little Red Hen Consignment Tagging Service client drop-off and will price and tag them for you at that time. We ask that clients bring no more than 7 oversized items to the sale site during client drop-off unless special arrangements have been made in advance.