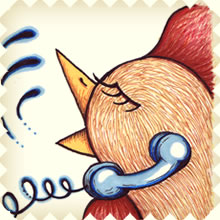 Testimonials
We're giving folks something to crow about! Read some of their comments
below.
"I just got my check! How exciting! I made twice the money with none of the effort! Thank you so much! When can I drop off my items for next season?"
-Shannon Stamper
"After about 10 years of accumulating clothes from our children, my wife & I determined that we were out of storage, and it was time to clean up. Since it felt right to match the clothes with other parents who use them, for a small fraction of the clothing we had, we tagged and experienced one consignment sale – but, the time & effort (and with no clue how to price the items) preparing for it far outweighed the benefits. A co-worker recommended Little Red Hen, and we made the call – the process was incredibly easy – LRH simply picked up the clothing items, completed all the preparation and logistical work, and then we received a check. Given we simply didn't have the time or expertise to devote to completing this process, it was a great solution for our situation, as we were able to provide the clothing items to other families that used and appreciated them, and the amount we received exceeded our expectations! We now recommend LRH to others in the same situation! "
-Rob Wildi
"Little Red Hen has been such a blessing to me! I had many years' worth of clothes that I needed to sell; I had not gotten rid of anything since my daughter was a toddler. All I had to do was sort the clothes by spring/summer and fall/winter. I put them in bags and arranged a pickup date and time with Kristen. LRH sorted, ironed, placed on hangers, and tagged all the items. They took them to the sale and all I had to do is wait for my check to arrive. I highly recommend this service to anyone that has items that they want to sell, but not the time to do it themselves."
-Holly Newman
"As someone who always wanted to consign, but could never find the time to do all the work (tagging, ironing, hanging, etc…) connecting with Kristen has been a tremendous blessing!  She is so organized and makes sure I know what  is happening every step of the way.  Her knowledge of the consignment community in the area is tremendous and she is an absolute pleasure to work with.  Little Red Hen is the way to go!"
-Lisa Peters
"As a part-time working mother to three small children, tight schedules and time restraints seem to be unavoidable. Every year as the seasons change and the kids get older I have to find the time for the overwhelming task of cleaning out their closets. I never know where to begin. In the past, I usually gave what I could to family and friends and donated the rest. I started to wish there was a way to start getting a return on my investment and I knew that ironing and tagging three closets of clothes twice a year was just not an option. Then one day I came across Little Red Hen. I thought, "How perfect!" When consignment sale season comes around, I literally grab yard trash bags and simply start sorting items, folding them and filling up bag after bag. I have been a client of Little Red Hen for a couple of years now and I would recommend this service to anyone!"
-Devon Nichols
"As a busy mom and teacher, I was so looking forward to consigning in the fall sales, but the timing just did not fit with my schedule. It's always worthwhile for me to consign, but this summer my family's sanity and time was even more valuable. In came Kristen and the Little Red Hen's tagging services – instead of spending several weeks of my very short summer sorting, washing, ironing, tagging, hanging, and taping items, I was able to spend just a couple of HOURS, not days or weeks, and got a great outcome. I had only 12 items left from multiple large bags that filled up the back of our family's minivan. This was my best consignment experience yet! Kristen was pleasant, polite, and professional in all of our interactions. She kept in regular contact with me before, during, and after the sale. I have recommended the Little Red Hen's services to many friends, and I am looking forward to working with Kristen again."
-Rachel Reyes
"Little Red Hen offers a great service! There is no way I would have the time to press, hang, and tag everything."
-Kena Hyers
"Kristen came to my house and helped me decide what clothing and toys to sell. Closet by closet, we conquered it all – six years worth of gear! I have three girls. A lot of stuff comes along with that and not a lot of time to do it. She drove off with a carload of bags. I could not have done it without her support and knowledge."
-Rebecca Simmons-Lamm
"I am really excited to use Little Red Hen. Kristen is so knowledgeable about consigning and the local consignment sales. When I have consigned before on my own, I had trouble determining prices for my items and did not like the time it took to drop off at the sale. Kristen's experience will take the guesswork out of pricing my items and she takes care of everything. Little Red Hen's consignment tagging service is convenient and will really save me time."
-Cathy Carr
"Kristen and her Little Red Hen tagging service are fantastic! Talk about making consigning easy! I have shied away from consigning in the past because of the enormous amount of work it took to get it all done. With Little Red Hen Tagging Service all I did was take my things to Kristen and watched the sale website to see how much money we'd earned! Wow! What a blessing! I would highly recommend Little Red Hen to anyone that needs a quick and easy way to consign! I'll never go back to doing it on my own after this!"
-Missy Standifer
"I found Little Red Hen's service to be very efficient and reliable, and surprisingly simple. I was amazed at how efficiently Kristen processed my items. While tagging, she discovered that a jogging stroller that I planned to sell had a recall issue. Kristen called the company on my behalf, had them send the new part to her and installed it. The stroller sold for a good price!"
-Pamela Carlson
"The first season that I consigned my kid's clothes and gear, I did it myself. All by myself. I ironed everything, pinned everything to hangers, priced everything and stood in line with everything. When all was said and done I realized that the time I had spent was not really worth the money that I had made from the sale. Turns out that I had overpriced some of my items causing them not to sell or underpriced other items and could have made more money. The next season I signed up with Little Red Hen. Not only did Kristen do all the work for me, with her expertise and experience in this area, I actually made more money. I love still being able to shop the sale without having to consign on my own but the best part is the Early Bird Service. My kids are still growing. What they can wear at the end of the season this year they may or may not be able to wear next year. As soon as they outgrow a size, I can pull it out and bag that stuff up and send it to Little Red Hen. It's out of the closets and my house! I believe that anyone that tries Little Red Hen Tagging Service just once will never try to do it by themselves again."
-Neeley Downer
Check back for more testimonials!